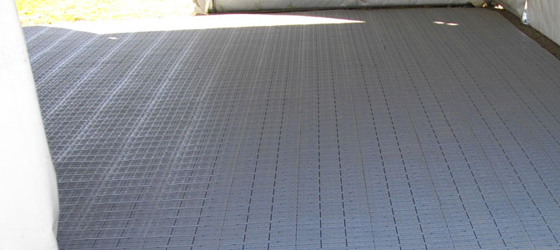 Event Flooring
Pink Fence Hire Event flooring is the perfect choice for a variety of events and can be utilized on a multitude of different surfaces ranging from grass, sand, asphalt, Concrete etc...
It's design protects the natural grass below from excess abrasion and wear. But at the same time allows water, air and light to filter through allowing the grass to breath. So next time you have a special event or function that requires event flooring? Give us a call and get expert advice from people that really understand event flooring and the application that it is best used for.
Event Flooring is also known as:
portable flooring - turf protection - access roadway systems

Event flooring is available now for hire or sale.
We also specialise in: Mesh Fencing, Hoarding Fence, Temporary Pool Fencing, Prestige Fencing, Water Barriers, Crowd Control Barriers, Portable Toilets and much more…
This product is suitable for: Residential Hire, Commercial Hire & Civil Hire
This product is available in: Sydney, Brisbane, Gold Coast, Redlands, Logan City, Ipswich, Melbourne, Adelaide, Murrylands, and Mildura.
If you do not see your current location? Please give us a call anyway, and we will see what we can do for you! Simply call on 1300 00 74 65 and speak to one of our Hoarding specialists and see how we can help you! Or simply contact us via our online contact form.
Want to learn more about Event Flooring? CLICK HERE